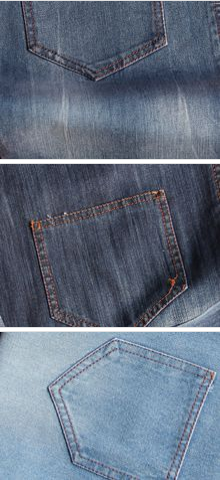 Denim is a kind of clothing that can be worn all the year round, it is one of the necessary fabrics for designers.
How to distinguish different types of denim:
First, according to the thickness of denim, it is divided into 4.5oz, 6oz, 8oz, 10oz, 11oz, 12oz, 13.5oz, 14.5oz, etc. 4.5oz is very thin, and it is commonly used to make summer vests for women, sleeveless shirt, etc. 14.5oz is very thick, and it can be used to make winter cotton-padded clothes for men. And jeans are usually between 8oz and 12oz.
The type of denim fabric can be divided into plain weave, twill, herringbone, cross weave, bamboo, dark fringe, as well as flocking denim.
In terms of composition, jeans are divided into carding and combed, 100% cotton, elastic (lycra), cotton and linen blended, and spun rayon yarns.
Good denim materials are important. If you want to know more about jeans, please contact with Guangzhou Xincheng Trading Company, which is a professional manufacturer to research and develop jeans. Good quality of processing and production, rich customization experience, high market share, we warmly welcome you to visit our factory.